NuvoH2O Manor Duo System
Contact us for a free,
no-obligation quote
We all want to bathe and drink clean water, but what can we do as homeowners with all the chemicals being put into our water system? What is a safe and affordable solution? There are lots of products on the market, but most of these systems are simply not an option for many households due to price and high maintenance costs. Who wants to buy a costly system that a specialist has to come out and maintain for them? We have partnered with an amazing company called Nuvo H2O. This is the system we put in our homes and it is the first system we recommend to clients who want a hassle-free water softening and filtering system that will extend the lifetime of their plumbing fixtures and won't have them dumping bags of salt and wasting water.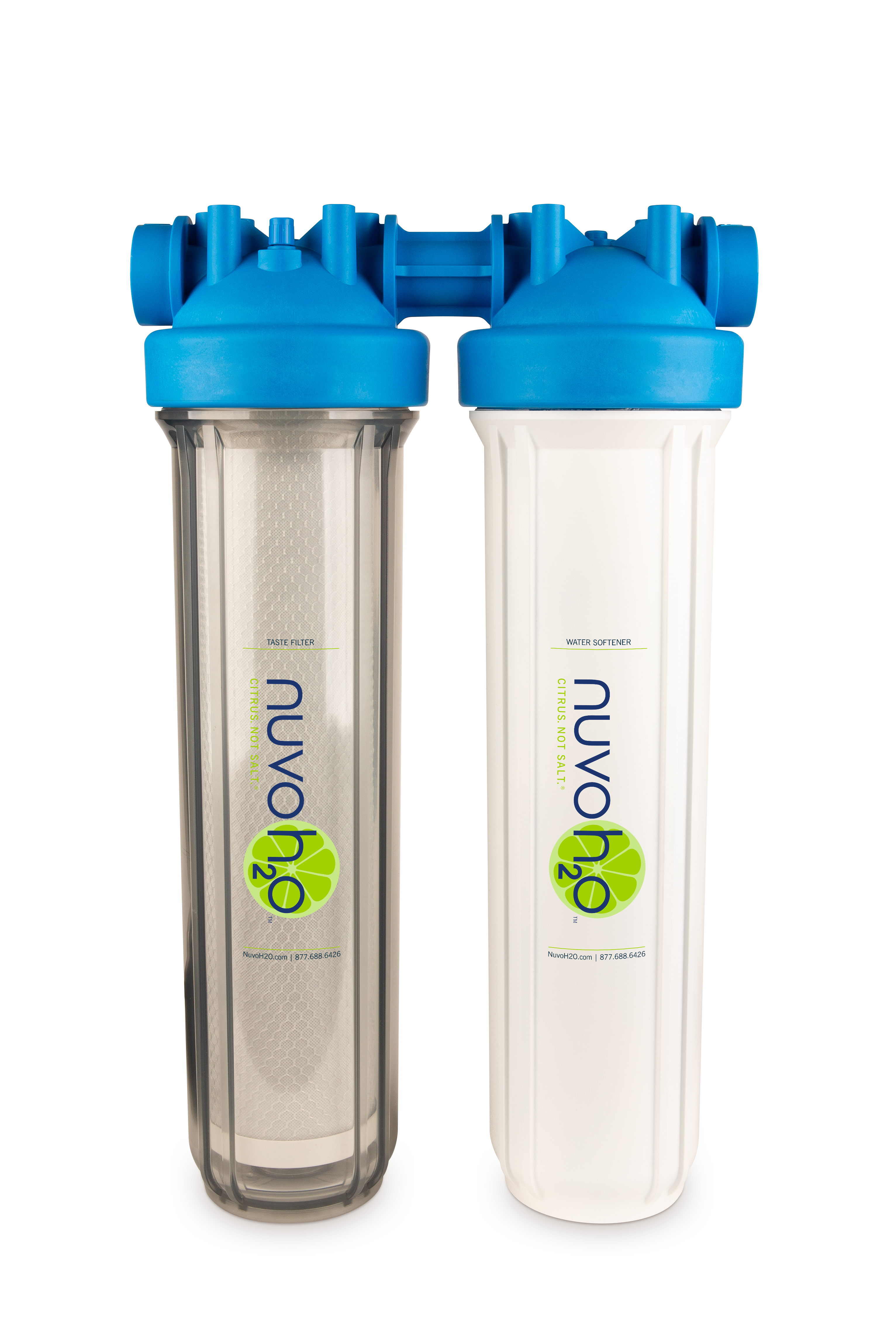 Complete system for Homes from 2000-5,000 sq. ft.
The nuvoH2O doesn't waste any water, doesn't require electricity and only contains recycle-friendly components, making it healthier for you, your family and the environment.
You'll never buy salt again. Just change the patented cartridge it takes 60 seconds and lasts 6 months.
It reduces energy bills by using up to 4x less water and saves valuable floor space.
The lifetime warranty Includes a full 90-day money-back guarantee and lifetime product warranty.
Details of The NuvoH2O Manor Duo System
NuvoH2O combination softener and filter not only prevents hard water build-up and removes existing scale, but provides great tasting water for your whole house.
The NuvoH2O water softener, without the hassle of salt, uses a process called chelation (pronounced key-LAY-shun) which binds with minerals in the water so they cannot react with other elements to produce scale.
Nuvo Complete excels at improving your water's taste and odor. The NuvoH2O water filtration system reduces chlorine and many of the contaminants which compromise your family's health and provides you and your family great tasting water.
10 Micron Carbon Filter
Size: 8" x 26"
Weight: 11 pounds
1" Brass Ports
4 PSI drop at 5 GPM
Max Pressure: 100 PSI (6.8 bar)
In-line System
Whole House Filtration
Built-in Pressure Release Valve
Installation Guide
Mounting Bracket & Hardware Included
At Robins Plumbing, Inc in Phoenix, our local plumbing company is passionate about helping people find the best water treatment systems for their home or business. If the NuvoH20 Complete Systems sounds like something you're interested in, contact our plumbing team today. We also specialize in Nuvo Water Systems, Nuvo Manor Systems, Nuvo Home Systems, and Nuvo Studio Systems. In addition to water treatment systems, we also offer residential and commercial plumbing services to help remedy plumbing problems in your home or office. From drain cleaning to backflow prevention and commercial and residential jetting services, we can help. Get your free estimate from our local plumbing company today!
For even more information on water treatment systems, like how they work and which type will work for you, check out this handy page.